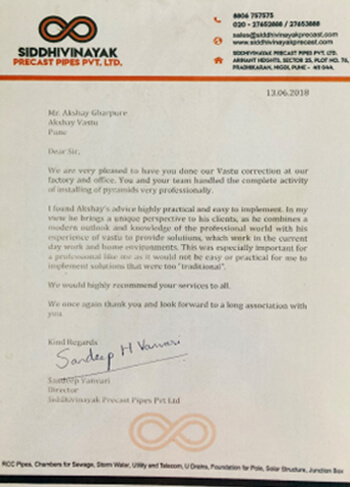 We are very pleased to have you done our Vastu correction at our factory and office. You and your team handled the complete activity of installing of pyramids very professionally.
I found Akshay's advice highly practical and easy to implement. In my view he brings a unique perspective to his clients, as he combines a modern outlook and knoledge of the professional world with his experience of vastu to provide solutions, which work in the current day work and home environments. This was especially important for a professional like me as it would not be easy or practical for me to implement solutions that were too "traditional".
We would highly recommend your services to all.
We once again thank you and look forward to a long association with you.
Mr. Sandeep Vanvari
- Siddhivinayak Precast Pipes Pvt. Ltd., Nigdi pune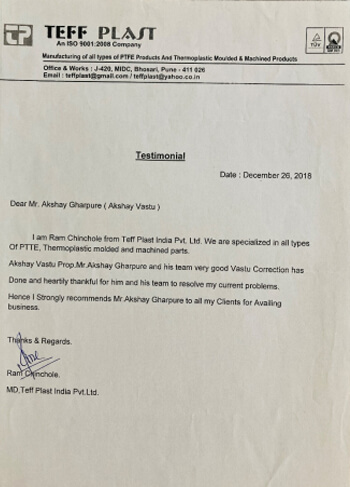 I am Ram Chinchole from Teff Plast India Pvt. Ltd. We are specialized in all types Of PTTE, Thermoplastic molded and machined parts.
Akshay Vastu Prop. Mr. Akshay Gharpure and his team very good Vastu Correction has Done and heartily thankful for him and his team to resolve my current problems.
Hence I Strongly recommends Mr. Akshay Gharpure to all my Clients for Availing Business.
Mr. Ram Chinchole
- Teff Plast India Pvt. Ltd., Bhosari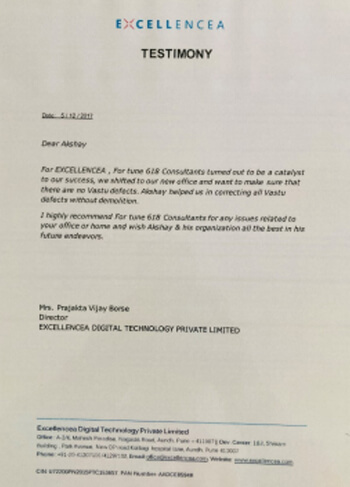 For EXCELLENCEA, For tune 618 Consultants tumed out to be a catalyst to our success, we shifted to our new office and want to make sure that there are no Vastu defects. Akshay helped us in correcting all Vastu defects without demolition.
I highly recommend For tune 618 Consultants for any issues related to your office or home and wish Akshay & his organization all the best in his future endevors.

Mrs. Prajakta Vijay Borse
- Excellencea Digital Technology Private Limited, Bhosari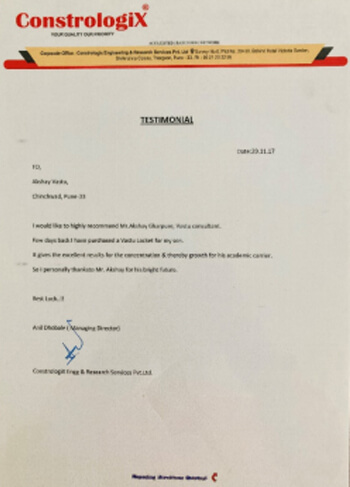 I would like to highly recommend Mr. Akshay Gharpure, Vastu consultant.
Few days back I have purchased a Vastu Locket for my son.
It gives the excellent results for the concentration & thereby growth for his academic carrier.
So I personally thanks to Mr. Akshay for his bright future.
Best Luck..!!

Mr. Anil Dhobale
- Constrologix, Thergaon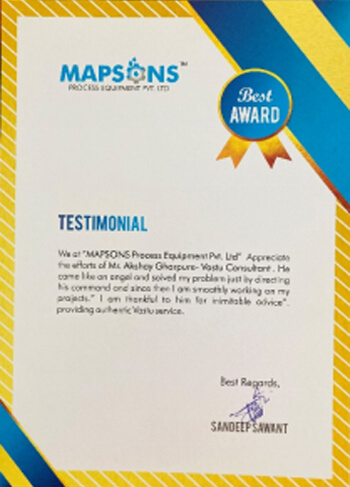 We at "MAPSONS Process Equipment Pvt. Ltd." Appreciate the efforts of Mr. Akshay Gharpure- Vastu Consultant. He come like an angel and solved my problem just by directing his command and since then I am smoothly working on my projects. "I am thankful to him for inimitable advice". Providing authentic Vastu service.
Mr. Sandeep Sawant
- MAPSONS Process Equipment Pvt. Ltd., Pune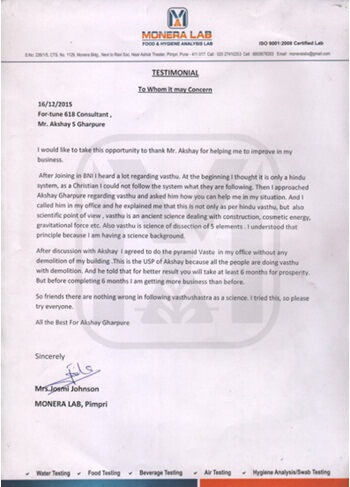 I would like to take this opportunity to thank Mr. Akshay Gharpure for helping me improve my business.
In the beginning I thought that it is a Hindu System, as a Christian I should not follow their system. Then I approached Akshay Gharpure regarding vastu and asked him how you can help me in my situation. I called him in my office and he explained me that this is not only as per Hindu vastu but also a scientific approach. Vastu is an ancient science dealing with the construction, cosmic energy, gravitational force etc. Also vastu is a dissection of 5 natural elements. I understood the concept because I have a science background.
After this discussion with him I agreed to do pyramid vastu in my office without any demolition of my building. This is the biggest USP of Akshay Vastu because all people are doing vastu with demolition. He also informed me that for better result it would take at least 6 months. But, before the completion of 6 months I got more business than before.
So, there is nothing wrong in doing vastu shastra as a science. I tried this, so everyone one should try it.
All the best for Akshay Gharpure
Mrs. Joshmi Johnson
- Monera Lab, Pimpri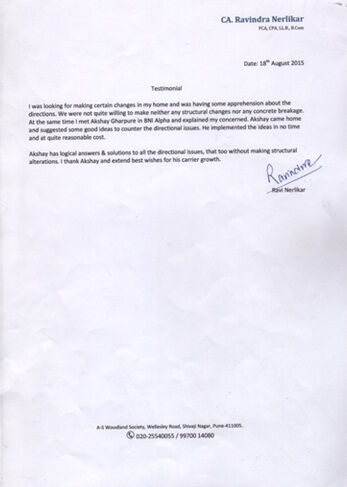 Akshay helped me overcome my homes directional issues without making structural alterations. He gave me logical answers and solutions for my direction issues. I thank him and extend my best wishes for career growth
Ravindra Nerlikar
- Chartered Accountant, Pune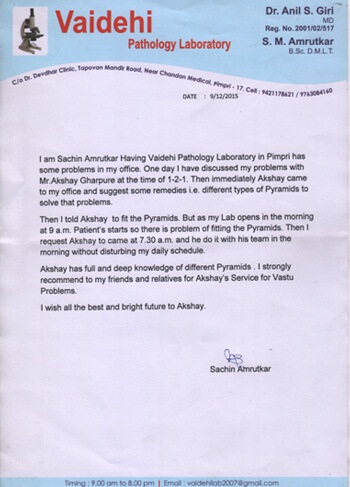 Akshay has full and deep knowledge of different pyramids. He helped me overcome my office issues without disturbing my daily schedule. He is helpful and co-operative and hence would like to recommend him to all my friends and relatives.
I wish all the best and bright future to Akshay.
Sachin Amrutkar
- Vaidhehi Pathology Lab, Pimpri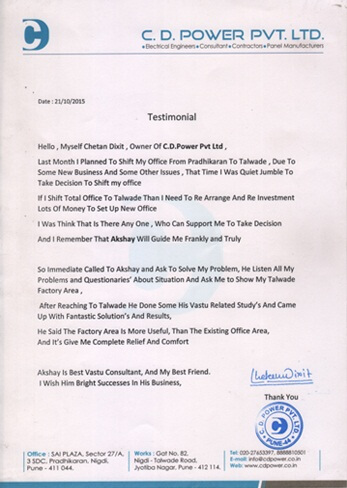 I was planning to shift my office from Pradhikaran to Talawade, for new business and other issues. At that time I was quite jumbled with the decision. That's when I contacted Akshay who helped me out in the decision making.
Akshay is the best Vastu Consultant, and My Best Friend
I wish him Bright Success in his Business
Chetan Dixit
- C.D. Power Pvt. Ltd.,Pune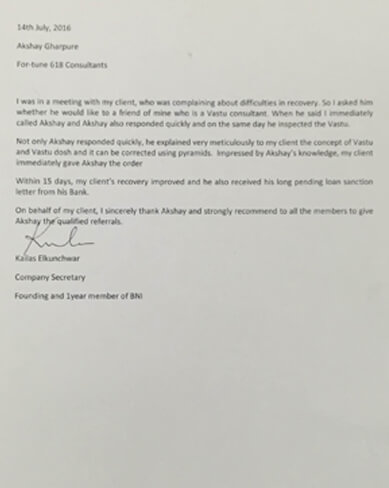 I was in the meeting with my client, who was complaining about difficulties in recovery. So, I asked him whether he would like to meet a friend of mine, who is a vastu consultant. When he said I immediately called Akshay and Akshay also responded quickly and on the same day he inspected the Vastu.

Not only Akshay responded quickly, he explained very meticulously to my client the concept of Vastu and Vastu dosh and it can be corrected using pyramids. Impressed by Akshay's knowledge, my client immediately gave Akshay the order.

On behalf of my client, I sincerely thank Akshay and strongly recommended to all the members to give Akshay the qualified referrals.
Kailas Elkunchwar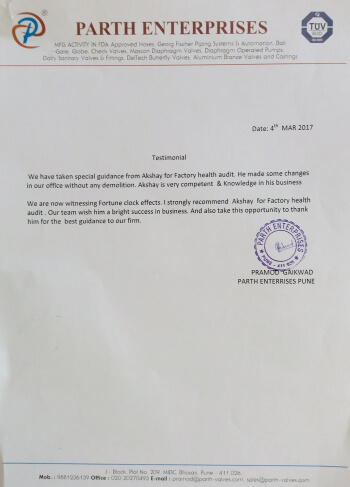 We have taken special guidance from Akshay for Factory health audit. He made some changes in our office without any demolition. Akshay is very comfort & Knowledge in his business.
We are now witnessing fortune clock effects. I strongly recommend Akshay for Factory health audit. Our team wish him a bright success in business. And also take this opportunity to thank him for the best guidance to our firm.
Pramod Gaikwad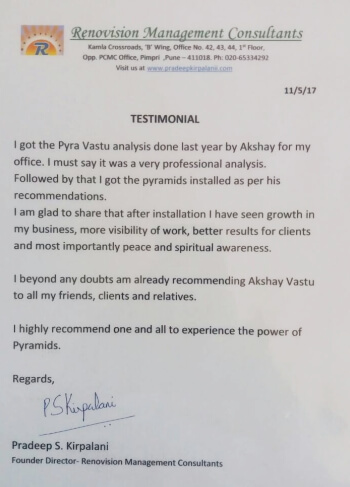 I got the Pyra Vastu analysis done last year by Akshay for my office. I must say it was a very professional analysis.
Followed by that i got the pyramids installed as per his recommendations.
I am glad to share that after installation I have seen growth in my business, more visiblity of work, better results for clients and most importantly peace and spirtual awareness.
I beyond any doubts am already recommending Akshay Vastu to all my friends, clients and relatives.
I highly recommend one and all to experience the power of Pyramids.
Pradeep S. Kirpalani